5 Considerations For Today's Buyer
Home sales (and values) have been on a strong uptick nationwide thanks to low interest rates, freer lending standards and a drop in the foreclosure rate. Sellers everywhere are breathing a giant, collective sigh of relief! But for all of the buyer activity, it seems like most houses sit on one end of two extremes: they either get snatched up the moment they hit the market (with multiple offers and an above-asking sale price) or seem to languish on the market without an offer in sight. It all seems to be stacked against you. The truth is, it is stacked against you. But if you're thinking about waiting it out for the inevitable economic collapse, you may regret it even more .
1. Prices Are Expected To Continue Rising
If you follow my blog, you saw my post a couple months ago about home price expectations and prices during recessions. Various sources from the National Association of Realtors, Freddie Mac & Fannie Mae and others all believe home values will continue to rise through 2020 and even 2021. While it may be impossible to know for sure, we can only with data, analytics and history for details. All of those point to a rise in home values which means the longer you wait, the more expensive the house will be in most markets.
2. Inventory Levels Are Still Low
One of the reasons home values have risen is due to lack of inventory. Any time there is less than 6 months supply of homes available, it is considered a Seller's Market. September sales data shows we are at a 4.1 month supply of homes. This is less supply than the year prior. September 2018 had 4.4 months supply. Ironically, many people have suggested it's just a matter of time for this to change. Unfortunately, I started hearing it in 2015 and we are still waiting. It is true, every single month has not been great and those that have been predicting the end is near thought they were right. Home ownership levels dipped in Q1 and Q2 of 2019. However, the dip was minimal and by Q3, we returned to 2018 Q4 numbers. There is no doubt, one day, things will change. But that day does not seem to be any time soon and it's arguably a greater risk waiting than it is buying in the near future.
3. Maybe Renting Is Your Best Option
With mortgage rates as low as they are, it's very rare that you will be able to rent a comparable home for less than purchase. Renting is a good option for some people. But it is very rare that you will be able to rent a home in a market that it is cheaper than purchasing. Price should not be the reason for your decision to rent. Keep in mind, you're still paying a mortgage - your landlord's. In Michigan, a non-owner occupied home pays 30-40% more on their taxes, still has to pay home owner's insurance and there is either a mortgage in place or they paid cash. In either scenario, they have to cover all those expenses plus return a profit. Landlords that own more than one property (investors) have portfolios that boast large gains and profitability. None of this is made possible without the rent money they receive on a monthly basis.
4. New vs Existing Construction
However, keep in mind all the things you will not be getting with new construction - landscaping, sod (and sprinklers), window treatments, deck/patio, upgraded lighting packages, and more. New construction is a great option for many people. I help people figure out options to pay for up front versus later all the time (like a deep pour basement or bigger garage that can't be done later). But you must consider your cash flow scenario when deciding on new construction.
5. Your Purchasing Power Is Strong
The math is actually working much different than you might believe. Home prices are absolutely higher than they've been and continue to rise. Currently, mortgage interest rates are lower than normal and income has continued to increase. Interest rates have dropped by 0.85% throughout this year. Income has increased 1.5% for the year. Even when factoring the increased home value, you're further ahead purchasing now than before. In January 2019, the median income family could afford a $373,900 home. By August, a median income family could afford a $395,000 home. Here's a graphic to better explain: Nationally, the median sales price hit a record high in March - $300,000. This was fairly close to the national median sales price of new construction.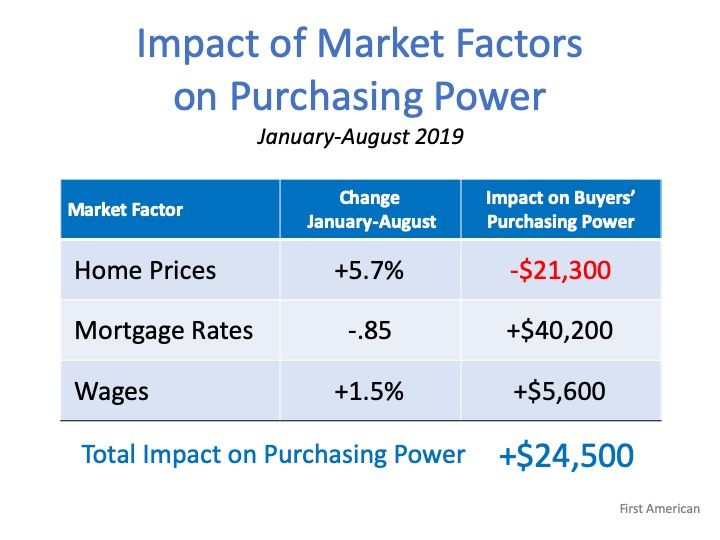 :
Need to Sell First?
Get your home's value - our custom reports include accurate and up to date information.
Get Home Value